4th Global Summit on City Tourism
The World Tourism Organization (UNWTO), at the kind invitation of the Regional Council of Tourism of Marrakech, an Affiliate Member of UNWTO, and with the support of the Ministry of Tourism of the Kingdom of Morocco, was organizing the 4th Global Summit on City Tourism: "Re-Inventing City Tourism" on 14 -15 December, 2015 in Marrakesh.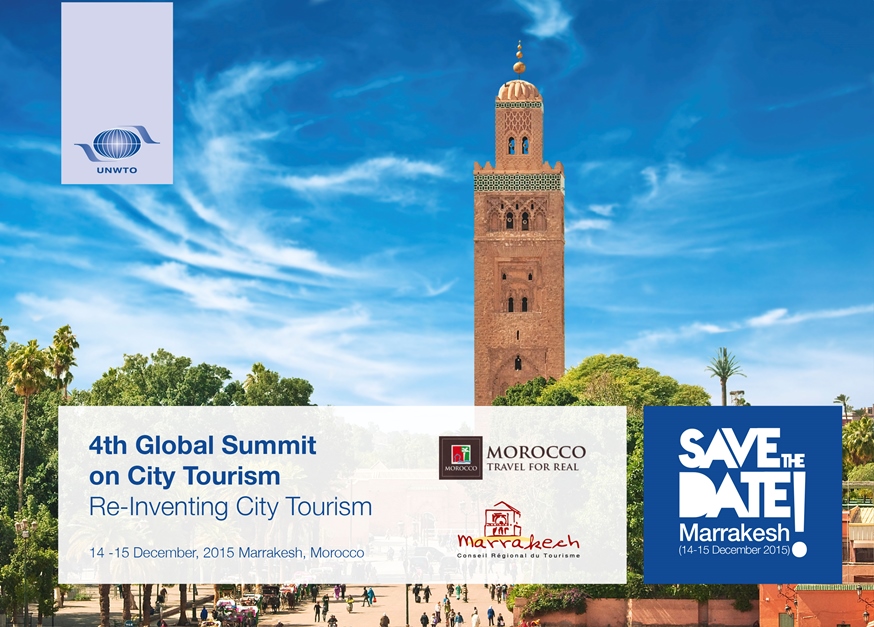 OBJECTIVES OF THE SUMMIT:
To Provide a comprehensive framework of the extrinsic and intrinsic changes in city tourism as regards planning, governance and operational processes.

To highlight the mutual impact of tourism and urban development at different scales of cities around the world

To explore the ways of maximizing the quality visitor experience while safeguarding and enhancing the quality of life for the local community by providing economic, social, cultural and environmental benefits.
THEMES COVERED:
City Tourism patterns; positioning city tourism in the global marketplace: Quantitative and qualitative approach.

Sustainable development and effective management of competitive city destinations as complex and diverse systems of interrelated economic, social and environmental phenomena and networks: "overall quality visitor experience".

Spatial organization and rejuvenation of "tourist cities": "accessible tourism for all" and "cultural heritage management".

Connectivity and City Tourism competitiveness.

The impact of the meetings industry and mega events.
TARGETED PARTICIPANTS:
National Tourism Administrations/Organizations

UNWTO Affiliate Members

Local authorities, municipalities and international and/ or regional associations/networks of local authorities

City DMOs,

Convention Bureaus

Travel trade representatives

Public authorities in charge of transport

Cultural institutions

Academic institutions, scientists and experts related to city tourism research

Urban planners, architects

ICT providers
Documents