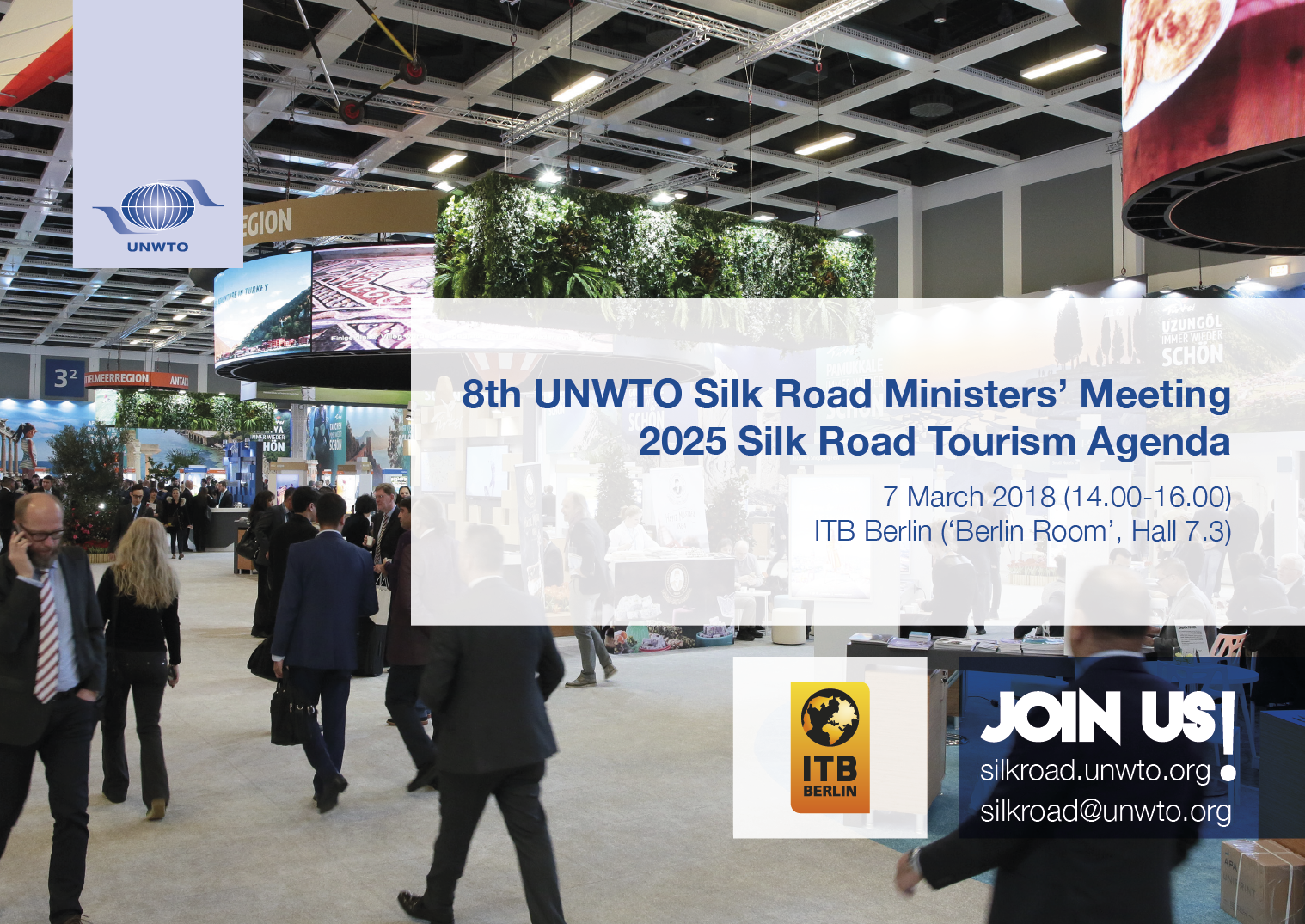 8th UNWTO Silk Road Ministers' Meeting
2025 Silk Road Tourism Agenda
Wednesday 7 March 2018, 14.00-16.00
'Berlin Room', Hall 7.3a, ITB
Kindly supported by
Messe Berlin
, the Silk Road Programme's most senior annual meeting focused on the
"2025 Silk Road Tourism Agenda"
; that is Member States' long-term tourism vision for the historic Silk Road routes.
In what was the biggest Silk Road Ministers Meeting to date, 34 Member States convened in ITB Berlin to discuss the "2025 Silk Road Tourism Agenda". Also attended by numerous UNWTO Affiliate Members and partner organizations such as UNIDO, UNESCO, PATA, WTTC and many more, the meeting provided a forum to
share ideas and strategies as to how fully realize the goals of establishing the Silk Road as the most important transnational tourism route of the 21st century.
The Secretary-General, Mr. Zurab Pololikashvili, who opened the meeting, pointed in his speech that
"Our joint work on placing the Silk Road as an internationally renowned and seamless cultural tourism route is proving to be very positive. In countries all along the Silk Road, there is growing awareness of tourism's contribution to cultural preservation, regional cohesion, and intercultural understanding.
Cross-country tourism projects are growing, and the interest of trade and consumers in the Silk Road continues to rise", he added.
Gifted with outstanding natural landscapes and cultural heritage transcending borders, this meeting provided 34 Silk Road Member States, with
Malaysia having become
the latest member to join the Silk Road Programme,
with an exceptional opportunity to engage more effectively in the area of joint tourism governance.
Also, the research on the
Tourism Impact of the 21st century Maritime Silk Road
was presented during the meeting. Primarily associated with inland routes, the historic Silk Road also comprised an extensive network of maritime itineraries linking various cultures and empires. Based on the renowned interest in re-activating these routes, UNWTO engaged in research studying the impact of China's 21st Century Maritime Silk Road project on tourism and, more generally, assess the tourism potential of Maritime Silk Road thematic routes across Asia. The main results and its practical application were presented by lead researcher, Mr. Robert Travers.
Keynote presentations:
Documents
Category tags