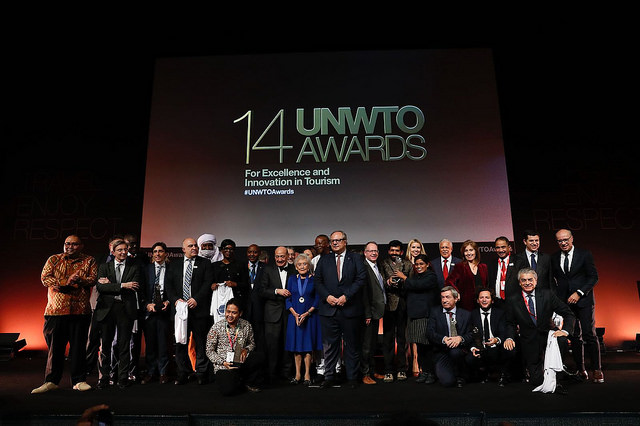 The UNWTO Awards celebrate excellence and innovation in the tourism sector, recognizing exceptional leaders in the categories of Creation and Dissemination of Knowledge and Lifetime achievement, innovative projects in the categories of Public Policy and Governance, Research and Technology, Enterprises and Non-governmental Organizations and the private sector comitment to the UNWTO Global Code of Ethics in the Ethics category.
Since their creation, the UNWTO Awards have recognized more than seventy institutions for their innovative tourism initiatives. The contribution of the awardees is in line with UNWTO´s policies, priorities and programme of work, including the UNWTO Global Code of Ethics for Tourism.
For the fifth consecutive time, the UNWTO Awards Ceremony was celebrated in collaboration with Madrid International Tourism Fair (FITUR / IFEMA) on Wednesday, 17 January 2018.
Download the Ceremony Programme

UNWTO Awards Forum
The UNWTO Awards Forum was organized held prior to the Awards Ceremony on Monday, 15 January 2018. The forum is held annualy to highlight the importance of innovation in tourism and showcase the knowledge and achievements of all UNWTO Awards finalists.
14th UNWTO Awards winners
For more information on the 14th UNWTO Awards winners and finalists, please click here. For more information on the finalists´projects, please visit this page.
Important dates
3 May 2017 Call for applications
30 September 2017 Deadline for reception of applications
November Announcement of Awardees
15 January 2018 14th UNWTO Awards Forum
17 January 2018 14th UNWTO Awards Ceremony & Gala Dinner
Useful links
Press release: UNWTO announces the winners and finalists of the UNWTO Awards
Press release: Initiatives from Portugal, Spain, India and Indonesia winners of UNWTO Awards for Innovation in Tourism
Photos of the 14th UNWTO Awards Ceremony and Forum
Overview of the UNWTO Awards
Previous UNWTO Awards editions
Becoming a partner
Contact
For additional questions, please contact the UNWTO Awards Team at awards@unwto.org.
Documents
Category tags